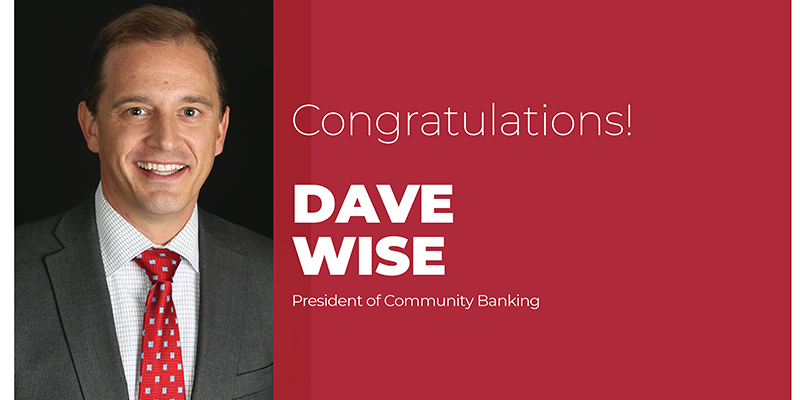 Wise named President of Community Banking at TS Banking Group
By: TS Banking Group
Published: 10/21/2022
Treynor, Iowa, October 21, 2022 - TS Banking Group, a multi-charter bank holding company located in southwest Iowa, is pleased to announce Dave Wise of Council Bluffs, Iowa as President of Community Banking.
Wise has more than 20 years of financial services industry experience, including credit analysis, treasury management, relationship management, commercial and business banking, along with equipment and real estate financing. He was named Market President for TS Bank in October 2018 and promoted to Senior Vice President of Business Banking two years later.
"Since joining the company in 2018, Dave's teams have flourished under his leadership. He has been a significant positive catalyst to growth within the company. We look forward to his continued leadership growth and his service to all community banking teams," said President of TS Banking Group Kevin Forristall.
Wise earned his undergraduate degree and MBA from Creighton University. He has served on numerous boards and community organizations and currently is a member of the Nebraska Enterprise Fund, Children's Square, the Iowa West Foundation Placemaking Advisory Committee and the Friends of the Council Bluffs Public Library.
The President of Community Banking role is dedicated to the growth and expansion of all commercial and consumer banking activities across TS Banking Group. The role's scope includes strategic vision, sales leadership and organizational alignment across Community Banking.
Wise will also serve as the President of Community Banking for the TS Bank charter. His leadership scope will include TS Bank's consumer banking function in addition to the commercial and ag areas he currently oversees.
"As President of Community Banking, I look forward to the continued opportunity to serve the families, farmers, business owners and nonprofits of Iowa as well as adding the markets of Illinois, Wisconsin, and North Dakota through our affiliated banks First National Bank and Trust Company and The Bank of Tioga," said Wise. "The TS Banking Group is a community banking group dedicated to igniting prosperity in the communities we serve. I hope to continue fostering an environment of client focus at our affiliated banks and helping to lead the resurgence of community banking."
Wise and his wife, Katie reside in Council Bluffs with their two children. In his free time, he enjoys volunteering in the community, the arts, coaching youth sports, exercising, traveling and spending time with family and friends.


About TS Banking Group: The TS Banking Group's purpose is to ignite lasting client and community prosperity by helping people DO MORE with their money. TS Banking Group is a joint venture between Treynor Bancshares, Inc., and the bank holding company, TS Contrarian Bancshares, Inc. Headquarters for both holding companies are in Treynor, Iowa. TS Banking Group represents over $1 billion in banking and fiduciary assets. For more information, visit tsbg.com.
Back