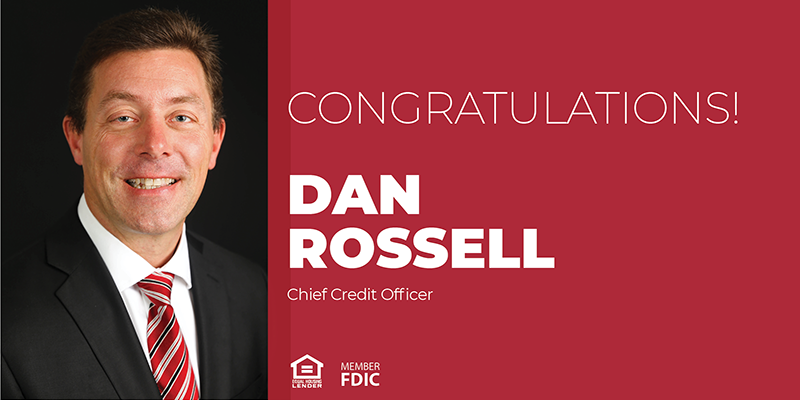 Rossell named Chief Credit Officer for TS Banking Group
By: TS Banking Group
Published: 11/05/2021
Treynor, Iowa, November 5, 2021 - TS Banking Group, a multi-charter bank holding company located in southwest Iowa, is pleased to announce Dan Rossell of Griswold, Iowa as Chief Credit Officer (CCO).
Rossell has more than 27 years of experience in business banking, consumer, commercial and ag lending. Rossell also has a broad background in the areas of loan administration, compliance and operations. He started with TS Bank in 2015 and most recently served as the TS Banking Group Senior Loan Officer and Market President for the Atlantic location and will continue to serve as Market President in the Atlantic market.
Rossell will serve as the CCO across the TS Banking Group's three chartered banks located in Iowa (TS Bank), North Dakota (The Bank of Tioga), Illinois and Wisconsin (First National Bank and Trust Company).
"We are excited to have Dan continue to have a greater leadership impact in our company and specifically to this role," said TS Banking Group President, Kevin Forristall. "He brings all of the skills and expertise necessary - he is aligned with our company culture, he is deeply rooted in Midwest ag-based communities, and brings years of experience in working with our teams for the benefit of our communities and clients."
Rossell is originally from Lewis, Iowa, where he graduated from Griswold High School, then graduated from Northwestern College with a degree in Business Administration with career concentrations in Finance and Economics. Additionally, he graduated from the Graduate School of Banking at Colorado with special honors.
"I am excited for the opportunity to step into the role of Chief Credit Officer. We have an outstanding team in our loan department that is focused on partnering with our clients to help them achieve prosperity," said Chief Credit Officer, Dan Rossell. "I will do all I can to support my entire team in fulfilling this goal for our clients while continuing to serve our clients in the Atlantic community."
Rossell and his wife, Jody reside in Griswold and have three adult daughters. Dan is also a board member of the Wallace Foundation for Rural Research and Development, Noble Initiative Foundation and GracePoint Church. In his free time, Rossell enjoys watching sports and playing golf.
About TS Banking Group: The TS Banking Group's purpose is to ignite lasting client and community prosperity by helping people DO MORE with their money. TS Banking Group is a joint venture between Treynor Bancshares, Inc., and the bank holding company, TS Contrarian Bancshares, Inc. Headquarters for both holding companies are in Treynor, Iowa. TS Banking Group represents over $1 billion in banking and fiduciary assets. For more information, visit tsbg.com.
Back