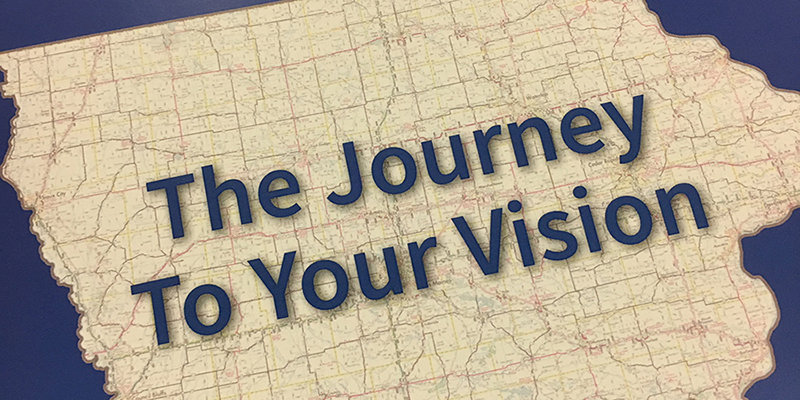 TS Community Foundation Hosts Local Seminar for Small Businesses and Non-Profit Organizations
Published: 10/30/2018
October 31, 2018, Treynor, Iowa – Nearly 45 community members from both the small business and non-profit sector gathered earlier this month for a one-day seminar, "The Journey to Your Vision" at the Treynor Community Center. The seminar was sponsored by TS Community Foundation, TS Institute, Iowa Farm Bureau Renew Rural Iowa and other regional sponsors.
Designed to bring clarity to where leaders want their organization to go, "The Journey to Your Vision" helped attendees identify current growth, uncover obstacles, and create methods to address the challenges. Addressing stages of growth and hidden agents were two key focuses in the training.
"It was a great presentation, and an opportunity for me to think differently to identify our greatest needs and priorities," said Jean Stephens with Hope-Net Ministries. "It was challenging and impactful material, plus a good networking opportunity."
Established in 1999, TS Community Foundation is designed to help giving people achieve more with their donations. It is the goal of the foundation to host annual seminars locally to positively impact communities.
For assistance with 501c3 status, tax-deductible gift options, or setting up an account to help fund your cause, project or charity, TS Community Foundation can help. To learn more contact us at [email protected].
About TS Banking Group:
The TS Banking Group is dedicated to the resurgence of community banking. By upholding a community bank management philosophy, TS Banking Group works to expand their organization with a client-focused operating efficiency that allows for the long-term prosperity of community banking. The current acquisition strategy aims to preserve the "local touch" at community banks by enabling the acquired bank to focus their efforts on serving their clients and communities. TS Banking Group is a joint venture between Treynor Bancshares, Inc., and the newly formed bank holding company, TS Contrarian Bancshares, Inc. Headquarters of both holding companies are in Treynor, Iowa. For more information visit tsbg.com. TS Banking Group represents $1 billion in assets.
Back