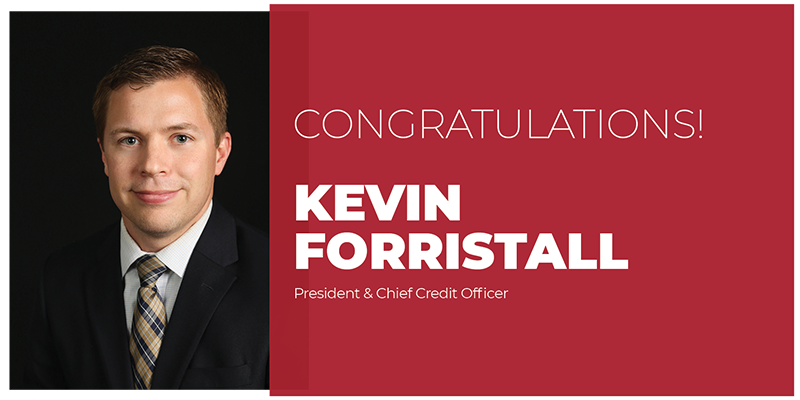 TS Banking Group announces new President and Chief Credit Officer
Published: 04/21/2021
April 21, 2021, Treynor, IA – TS Banking Group, a multi-charter bank holding company located in southwest, Iowa, is pleased to announce Kevin Forristall as president and chief credit officer.
During Forristall's 13 years with TS Banking Group, he has held various leadership positions in credit, finance, investing, risk management, asset liability management, business intelligence, organizational strategic planning and community banking. In his more recent executive vice president and chief strategy officer role, Forristall directed strategic planning efforts across all of TS Banking Group and led the client-facing business units.
"Having joined the company in an entry-level role, my story is just one of the many people who have experienced tremendous personal and professional growth as a direct result of working at TS Banking Group. When we talk about wanting to help people 'DO MORE', we mean it," said Forristall. "I am humbled by the great responsibility to carry the mission forward and for the many exciting things to come for TS Banking Group in the years ahead."
TS Banking Group has experienced tremendous growth over the last 15 years and now represents three community banks totaling over $1 billion in banking and fiduciary assets across Iowa, Illinois and North Dakota. Additionally, the group offers tax and financial planning through various divisions, striving to help clients with their entire financial picture during every life-stage.
Recently, the company was one of sixteen community businesses named an "Unbelievable Workplace" by the Council Bluffs Chamber of Commerce in Iowa. The new program is designed to help area businesses track employee satisfaction and build upon positive workplace culture.
"Over the past 10 years, I've had the opportunity to directly manage and work with Kevin on a wide range of projects and opportunities throughout the company. Those years of working together afforded the two of us to develop a level of trust and knowledge of one another which has prepared him for this path," said TS Banking Group CEO, Joshua Guttau.
Forristall, a local from Macedonia, Iowa, has 15 years of banking and finance experience, holds the Chartered Financial Analyst designation, possesses an MBA from Creighton University and BS in Business Administration from Morningside College. Forristall is on the stewardship team at Christ Community Church and serves as president of the Stone Quarry in Macedonia, Iowa. He and his wife, Vanessa have four children; Luke, Lily, Jude and Jack. In addition to spending time with his family, he enjoys reading, biking and being involved in his family farm.
For more information on TS Banking Group, visit tsbg.com.
About TS Banking Group: The TS Banking Group's purpose is to ignite lasting client and community prosperity by helping people DO MORE with their money. TS Banking Group is a joint venture between Treynor Bancshares, Inc., and the bank holding company, TS Contrarian Bancshares, Inc. Headquarters for both holding companies are in Treynor, Iowa. TS Banking Group represents over $1 billion in banking and fiduciary assets. For more information visit tsbg.com.
Back