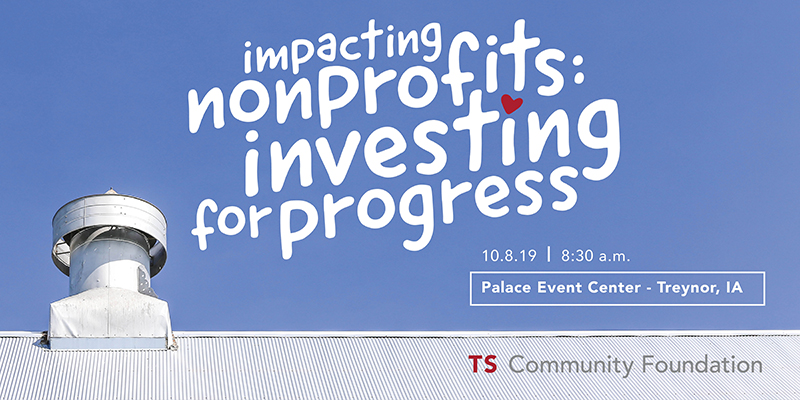 TS Community Foundation to host nonprofit planned giving workshop
By: Mike Brownlee
Published: 10/04/2019
The TS Community Foundation,a new affiliate of Pottawattamie County Community Foundation, is excited to host its third annual educational retreat for nonprofits on Tuesday, Oct. 8.
The workshop, hosted at The Palace Event Center just outside Treynor, will be geared toward nonprofit professionals focused on planning giving and working with benefactors. The event begins at 8:30 a.m. with a light breakfast and lunch also included.
The annual workshop hosted by TS Community Foundation launched in 2017 to help build upon the educational resources for local nonprofits and engage the surrounding communities.
The event will feature a panel discussion and a featured presentation from Iowa West Foundation President and CEO Pete Tulipana.
"Strong nonprofits are the backbone of our communities. The partnership between nonprofits and philanthropy is an essential one to create and sustain a service delivery system that every community must have," Tulipana said. "That partnership requires both parties to approach the relationship with respect and a willingness to understand the restraints and the possibilities that each bring to the partnership."
The cost to attend is $25 per person, with the majority of the ticket costs pooled to create a collective donation to the Pottawattamie County Community Foundation Southwest Iowa Mental Health & Substance Abuse Fund. Space is still available for the workshop.
"Our area nonprofit partners are the cornerstone of our community, helping to create lasting change and positive results for families and individuals in the areas they serve. That is the reason supporting the work of our non-profit partners is of paramount importance to both the Pottawattamie County Community Foundation and the TS Community Foundation," Pottawattamie County Community Foundation President Donna Dostal said. "We are excited to provide this learning opportunity geared at helping our area agencies learn from the experts on how to best leverage estate and legacy giving."
Schedule of events:
• 8:30-9:00 a.m. – Coffee & Contacts
• 9:00-9:15 a.m. - Welcome
Mick Guttau, President of TS Community Foundation
Donna Dostal, President and CEO of Pottawattamie County Community Foundation
• 9:15-10:00 a.m. – Featured Presentation: Pete Tulipana, President and CEO of Iowa West Foundation
Lessons Learned from the Two Worlds as CEO of a Nonprofit to CEO of Funding Nonprofits: The Road to Sus-tainability with Economic and Community Impact
• 10:00-10:15 a.m. – Break
• 10:15-11:30 a.m. – Panel Discussion
Planned Giving Strategies & Sustainability Pathways
Pete Tulipana, President & CEO, Iowa West Foundation
Judy Davis, Fundraising Consultant
Stacey Goodman, Iowa Foundations Director at Omaha Community Foundation Daniel Fischer, Estate Attorney, Kohorst & Fischer Law Firm, PLLC
Moderator, Lisa Fox, President of Fox Creek Fundraising
• 11:30-11:45 a.m. – Table Discussion
Today's takeaways and how you can implement planned giving
• 11:45 a.m. - 12:15 p.m. – Lunch
• 12:15-12:25 p.m. - SHARE Omaha Giving Tuesday Feature
Marjorie Maas, Executive Director SHARE Omaha
• 12:25 - 12:30 p.m. – Adjourn and Closing Comments
Mick Guttau, President, TS Community Foundation
Donna Dostal, President and CEO, Pottawattamie County Community Foundation
To purchase tickets go to https://bit.ly/2pGWst5. For more information call 712-487-0334. To learn about the new TS Community Foundation and Pottawattamie Community Foundation partnership, view the recent press release at TSBG.com.
About TS Community Foundation: Founded in 1999, TS Community Foundation is committed to developing long-term prosperity in the surrounding communities and strive to help identify community needs, facilitate education efforts, and build up leaders, one individual and one family at a time. The foundation desire is to be a catalyst for positive change and growth in our communities for generations to come.
About PCCF: The Pottawattamie County Community Foundation (PCCF) is a tax-exempt public charity, 501(c)(3), that serves thousands of people who share a common interest in improving the quality of life in Pottawattamie County, Iowa.
Through PCCF, individuals, families, businesses and organizations can create permanent charitable funds that help their communities meet the challenges of changing times. The foundation invests and administers these charitable funds.
Like all community foundations across the United States, PCCF is overseen by a volunteer board of leading citizens and run by professionals with expertise in identifying the needs of their community.
Back