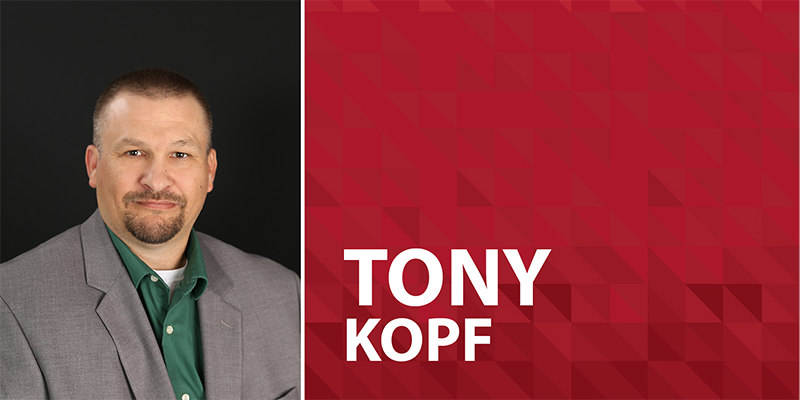 Kopf Takes on TS Banking Group Compliance and CRA Officer Role
By: Mike Brownlee
Published: 08/13/2019
Tony Kopf wanted to get back into community banking.
The Omaha native has done just that, joining TS Banking Group as compliance and CRA officer, working out of the company's home office in Treynor.
"I had always known of the bank and the banking group and known they're a positive force in the area," Kopf said. "I'm happy to join the team."
Kopf's role involves looking across the products and services TSBG offers, "making sure we're in compliance." He'll also assist as the bank puts in policies and procedures regarding compliance.
Kopf is very familiar with the examiner side, working with the Nebraska Department of Banking and Finance for 11 years, working closely with the Federal Deposit Insurance Corporation, while also working with the Federal Reserve and Office of the Comptroller of the Currency.
During his more than 25 years in banking Kopf has had stops at First National Bank, Farm Credit Services of America, Pinnacle Bank and elsewhere – working in most every facet of banking, from the teller line to credit card compliance, IRA compliance and trust compliance, among many roles - before joining the TS Banking Group team.
"I enjoy the broader scope this position includes," he said of his expanded compliance role. "I look forward to working across the entire spectrum of compliance."
Kopf will also handle Community Reinvestment Act compliance for the company, while also monitoring compliance related to the Home Mortgage Disclosure Act.
Kopf was born in Iowa City and grew up in Omaha, Nebraska, attending Roncalli High School before heading to Buena Vista College (now University) in Storm Lake, Iowa, where he majored in economics.
He and wife Brandy have been married for 22 years and have two children, Alex, 17, who will be a freshman at the University of Nebraska-Lincoln in the fall, and Megan, 14, who will be a freshman at Millard South High School in Nebraska.
Tony Kopf loves hockey, which he's played for more than 20 years, while also spending years coaching and refereeing the sport. He still plays, getting in front of the net as goalie.
Alex Kopf will play on the Nebraska club hockey team in college. Like his dad, he's a goalie.
One of Kopf's claims to fame? Meeting Margaret Thatcher.
While at Buena Vista, Kopf was involved in a program that brought speakers to the college. Among the many people he met through the program – including a former Russian intelligence agent – was Thatcher.
"Very down to earth. She believed in the things she did, very strong in her convictions," he said. "She was just a neat person."
Kopf said he's happy to join the TS Banking Group team and looks forward to helping the company continue to grow and build prosperity in the communities it serves.
"I like the community banks. I always liked working with them as an examiner," he said. "It's nice to work for a bank that doesn't just say they're a community bank, but are a community bank."
About TS Banking Group: The TS Banking Group is dedicated to the resurgence of community banking. By upholding a community bank management philosophy, TS Banking Group works to expand their organization with a client-focused operating efficiency that allows for the long-term prosperity of community banking. The current acquisition strategy aims to preserve the "local touch" at community banks by enabling the acquired bank to focus their efforts on serving their clients and communities. TS Banking Group is a joint venture between Treynor Bancshares, Inc., and the newly formed bank holding company, TS Contrarian Bancshares, Inc. Headquarters for both holding companies are in Treynor, Iowa. For more information visit tsbg.com. TS Banking Group represents $1 billion in assets.
Back