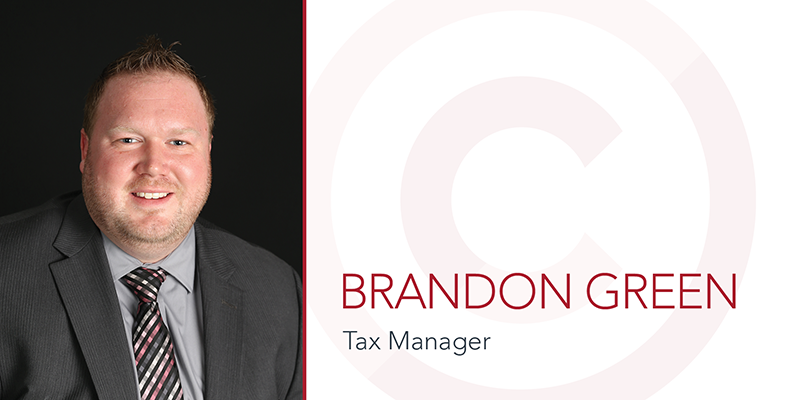 Local Firm Hires New Tax Manager
Published: 02/14/2019
Feb. 14, 2019, Treynor, IA – Collins Consulting, a tax and accounting firm located in Treynor, Iowa, is pleased to announce Brandon Green as Tax Manager.
Green will office at Collins Consulting Services' new location inside TS Bank at 15 E. Main Street in Treynor, Iowa, and has nine years of experience in accounting, serving most recently as Accounting Manager at Iowa Western Community College.
"I'm excited to join my home town company with a great reputation," said Brandon Green. "I hope to continue to build the current client relationships that Collins Consulting and TS Bank have and continue to provide great client service in the future."
Green is a life-long resident of Treynor, Iowa and is looking forward to working in Treynor as well. In his free time, he enjoys golfing and spending time with family and friends. Green attended Iowa Western Community College for his associate's degree and his Bachelors in Accounting at Buena Vista University. He also recently received his Master's Degree in Business Administration from Wayne State College.
Norm Collins has owned and managed Collins Consulting Service for over 40 years. The company originally started as a spare time project and now has eight employees that serve thousands of clients in Iowa, Nebraska and beyond.
"I'm looking forward to Brandon learning the ropes, our company values and especially, our dedication to client service," said Norm Collins. "Brandon gets it and he is a great asset to our team. I'm thankful for his local ties and his commitment to our community."
As Tax Manager, Green will assist clients with their tax preparation needs and help businesses with their payroll and accounting services. Green will work alongside Norm Collins and the rest of the Collins Consulting team diving straight into the company's busiest season, January through May.
"The Tax Cuts and Jobs Act is the biggest federal tax law change in over 30 years, possibly the biggest in U.S. History," said Collins. "It's a great time to get the next generation of tax professionals involved in what is going on."
Collins Consulting is now taking appointments for the 2018 tax season.
Brandon Green can be reached by calling (712) 487-3853 or by stopping by Collins Consulting (inside of TS Bank) at 15 E. Main Street in Treynor, Iowa. For more information on Collins Consulting Services, visit collinsconsultingservice.com.
About Collins Consulting Service:
Collins Consulting Service has offered tax and payroll services since 1970. The tax team consists of eight employees and is based in Treynor, Iowa. The company lives under the TS Banking Group umbrella and is managed by Norm Collins. For more information visit collinsconsultingservice.com.
Back