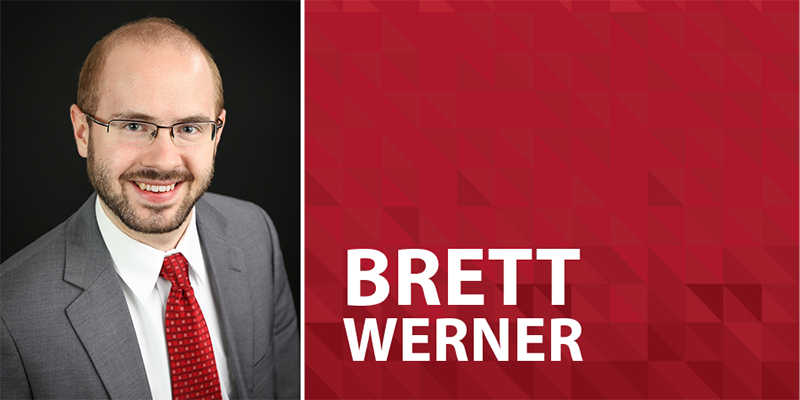 TS Prosperity Group Announces New Chief Investment Officer
Published: 10/02/2018
Oct. 2, 2018, Council Bluffs, IA – TS Prosperity Group, a division of TS Bank focused on investment and fiduciary risk management, is pleased to announce Brett Werner as Chief Investment Officer. As CIO, Werner will oversee the entire TS Prosperity Group investment portfolio.
Werner, a native of Des Moines, Iowa and currently residing in Omaha, Neb. holds the Chartered Financial Analyst (CFA) designation and holds a BS in Business Administration degree with Creighton University, where he is currently working toward his MBA.
"I am honored to serve in this role for TS Banking Group and our clients. My passion is helping others around me grow to a better position than they are today-a passion that is well-aligned with TS Banking Group's philosophy of promoting community prosperity," said Werner. "I am excited to play a bigger part in an organization that sets itself apart in the way it cares about our clients and community."
Werner began working for TS Banking Group in 2011, and during this time he has held leadership positions in investment analysis, financial risk management, and client investment management. Much of his time over the last few years has been spent implementing industry best practices and processes in these areas. Werner's involvement in TS Banking Group has contributed to the development of TS Prosperity Group's investment management function and the establishment of TS Capital, an affiliated investment firm.
"I am excited to have Brett step into a leadership role for the TS Prosperity Group's investment philosophy and portfolio creation." Said Kristi Krayneski, COO at TS Prosperity Group. "He has been a vital part of our growth and evolution in the business model and I look forward to our continued journey with Brett leading our investment team."
Werner has been married to Theresa Werner for two years. In addition to spending time with his wife, Brett enjoys running, volunteering with the Knights of Columbus, singing in the liturgical choir at church, and studying for his Masters' program.
For more information on TS Prosperity Group, visit http://tsprosperity.com.
About TS Prosperity Group:
TS Prosperity Group is a combination of fiduciary services and institutional investment management. The Trust Division - which includes fiduciary services - has been in place for 90 years. The institutional investment management team, developed over the last ten years, is now under TS Prosperity Group, headquartered in Council Bluffs, Iowa. TS Prosperity Group has $245 million in assets under management. Joshua M. Guttau is CEO and Kristi Krayneski is the COO. For more information visit tsprosperity.com.
Back